So, I have a new obsession. I have always been very particular about the type of planner I use. It has to be just the right kind of layout, look nice, and be the perfect size. The only time I've ever found the perfect planner was one I bought from the Louvre in France. I searched and searched online but was never able to find a replacement. I've tried to make do, but have never found the right planner for me. Until now.
I saw a post on Tumblr about bullet journaling, and I was interested. I looked up the concept and found myself at http://bulletjournal.com/. I watched the main video, explaining the concept, and that was all it took to have me hooked. I needed one, and I couldn't wait to start my very own.
If you've never heard of bullet journaling, check out the link above. It will give you an overview of how it works. Basically, it's analog journaling. It's a cross between a journal and a planner, and it is designed to fit my needs. It provides an opportunity to keep track of my to-do lists, schedule, habit tracking, journaling, notes, and more. Seriously. It's that amazing.
I have been using my journal for just under two weeks, but I already know that it's going to stick. I love it. I feel more organized, more accomplished, and more productive. I have scoured the internet for inspiration, and found a particular connection to
Boho Berry and her style of bujoing
.
For now, I'll show you my style. I am still learning what works best for me, but for now, here's a peek inside my journal.
For my first notebook, I went with a
large Moleskine notebook in beige with dotted lines
. I love the dotted lines for helping me to draw and write straight. For writing, I am currently using the
Pilot Precise V5
in Extra Fine. It is perfect for drawing and writing small, thin lines. The only thing I don't like about this pen is there is a lot of ghosting (the ink doesn't bleed through but if you turn the page, you can see the writing on the previous page).
The first step for any bullet journal is an index. Here is a peek at mine. I kept it very simple and followed the traditional bullet journaling guidelines for this step.
Next, we have the future log. This is an at-a-glance look at the next six months. I again followed the traditional guidelines for this page. Next time, I think I'm going to change it a bit, but for now this works.
Now we're onto the monthly spread. I again followed the traditional guidelines in setting these pages up, but I am pretty happy with this system so far. I added lines separating the weeks, but everything else I kept the same. On the left, I list out every day of the month, and then use the rest of the line to write in any plans, events, or deadlines for that date. On the right is my to-do list and goals for the month. (You can see the ghosting I mentioned here!)
This is my favorite part, the daily pages. For these pages, I got my inspiration for the Boho Berry blog I mentioned above. I note the date, weather, and put my daily to-do lists and events underneath. I've also been practicing my hand-lettering skills, so my headers have been improving too.
The last part of a bullet journal is the collections. These can be anything: class notes, trackers, brainstorming, more traditional journaling, anything. I even have a collection for practicing my hand-lettering! Pictured here are three of my collections: my habit tracker, my memories, and a birthday tracker.
And that's it! I've been pretty happy with this so far, and I couldn't wait to share it with you guys.
Now, let's bring back the Etsy dive! To follow along with the bullet journaling theme today, I searched for items that can be used for bullet journaling. I looked through lots of stickers, stencils, pages, stamps, and more. I have to say that one of the most perfect things I've found is this
Savings Tracker Stencil
.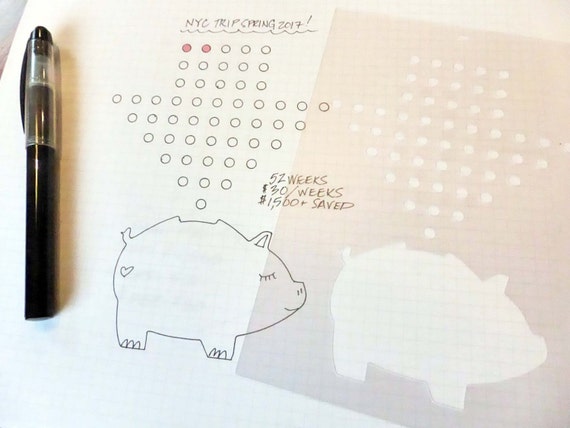 It's only $9 and it is the perfect addition to your collections. It is a great way to keep track and encourage yourself to save money, whether it's for a trip or an emergency fun. How cool!
That's it! I'm out for the week. Enjoy you Valentine's Day weekend, loves!