I have been a member of Ravelry for a long time, but I never braved the forums. Sure, I posted once or twice for help with casting on or understanding a pattern, but I never really sought any kind of community from Ravelry - until recently. I finally started really exploring the forums and joining groups. I spent a lot of time creeping - reading every thread in every group I'm in, understanding how swaps work, and figuring out what I could possibly offer. I finally took the leap and posted in a swap to join in - and I am so excited about it! After a few strained conversations with an etsy seller, I finally received the items to send off to the person whose wishes I agreed to grant. I popped them in the mail yesterday. When I came home last night, Callie handed me a package that had come in the mail for me, my wishes had been granted! I was so excited - I almost didn't want to open it!
When I pulled open the envelope, it revealed a gorgeous magic yarn ball (one of my wishes) and a note from the sender.
Dudley and Sevy were also excited about my package
My first reaction was to fall in love with the colors - I love colors that don't necessarily "compliment" each other. I struggle with making sure my clothes match. The orange and green are loud and fun and I can't wait to find something really cool to make with this yarn!
I whipped out my trusty ball winder and starting unraveling the yarn, watching all of my surprises fall out of the ball as the cake of yarn on the winder grew. I absolutely love all of my treasures!
Sev admiring all of my fun new things - a gel pen, notebook, yarn, knit octopus (squee!), buttons, origami, bag, and stitch markers. Holy moly!
A close-up of my gorgeous new yarn!
I am so excited about all my new things and I can't wait to participate in another!
Speaking of treasures, I wanted to start a new segment of this blog - the Etsy Dive! There are so many unique, fun, and beautiful things on etsy. I spend hours looking through everything, favoriting the beautiful things, and finding things I never even knew I needed! So, every post will feature an item from etsy that is interesting, gorgeous, fun, exciting, or all of the above! A lot of the items I post will be knitting related because that is such a big passion of mine, but there are a ton of other great things that are non-crafty. If you are interested in having your item featured here, just send me an
email
!
Today's etsy find is a Female superhero knitting
project bag
!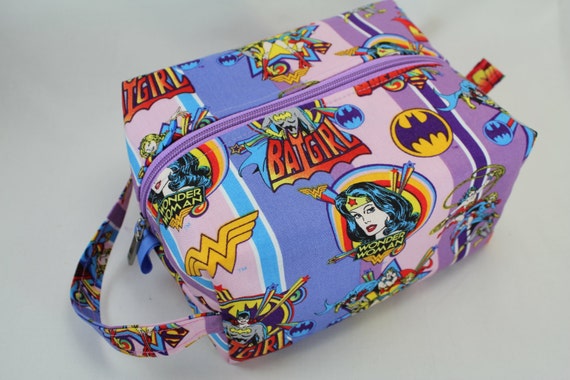 I absolutely love BatGirl and it isn't often that I come across and ant of her merch. I did a semester-long project on women in comic books, ending with a presentation to all of the professors in my department. Since then, one of the professors has added a research project on the topic to her syllabus. This will definitely not be the last you hear of my love of comic books, so brace yourselves. I adore this bag, and have already told Callie that this is something I must have!
Finally, since this is a knitting blog I should probably tell you what I'm knitting.
I am four rows into the
Benton
cowl. The yarn I'm using is
Yummy Superwash Sock and Baby Yarn
by Miss Babs. The colorway was exclusive to the 2014 Maryland Sheep and Wool Festival - where I purchased both the yarn and pattern. This cowl will be my commemorative project of my first Sheep and Wool Festival!
Callie and I at the 2014 Maryland Sheep and Wool Festival
What's on your needles?
-Chelsea